Have you been looking for fly-in rental homes? You've come to the right page for rentals with a runway either on site or directly adjacent. We know as a flying family that finding a VRBO or Airbnb with a runway is pretty rare. Here I hope you will find a useful list of over fifteen fly in rental experiences. Today we aren't talking just proximity to small airports! The rentals in this article are geared specifically for pilots and the ability to land right where you are going to be staying.
Of course I'm your details girl, after all that is what this site is all about! I've also provided basic airport runway information, and researched ground transportation options. This way you may scroll through and know if it's for you and your airplane, or not! Most of these rentals are family friendly except for the one beds. However, those will still work for your family if you fly with only a baby and travel crib. I did not include listings that had poor, or no reviews because of the concern of legitimacy. Some have hangar or tie downs included, and some need to be arranged with the respective airport. I think this goes without saying, but of course be sure to coordinate with both the airport owner/manager and the host if they are separate. Read on for details, offerings, and listing links for these fly in vacation homes!
Mountain Home Rental in Alpine, Wyoming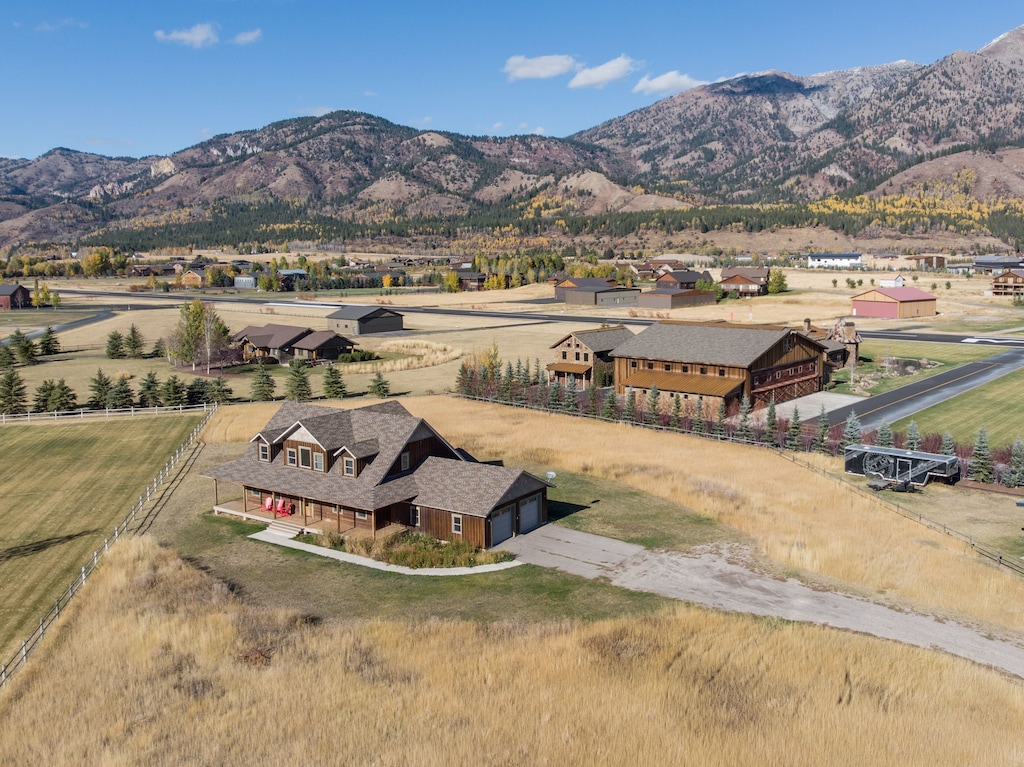 This professionally managed rental is directly adjacent to the gorgeous Alpine Airpark, and it's 5800 foot asphalt runway. You can rent a tie down that is about 150 yards from the property. As tie down space is limited, please coordinate all plans with the Alpine Airpark operator, separate from this rental. This 2700 square foot home has 4 beds and 4 baths, and a patio with grill. Beautiful views await in this region where you can enjoy all nature has to offer on the banks of the Palisades Reservoir. Car service companies available. Click here to view this property on VRBO.
The Hangar Lodge in Fort Worth, TX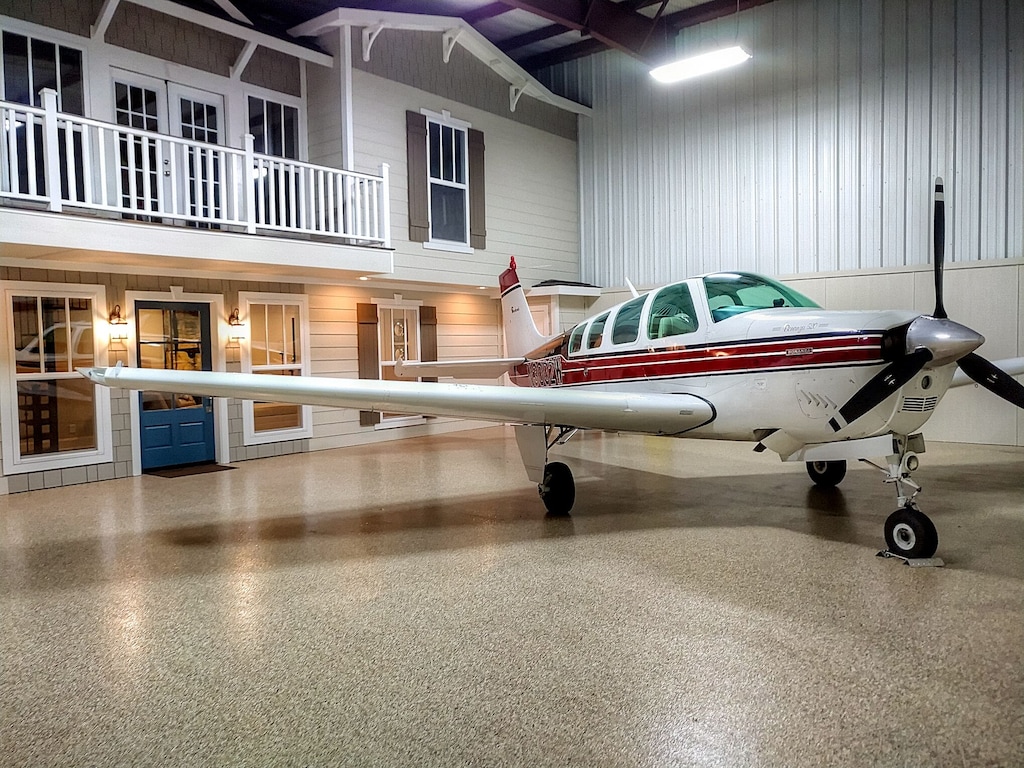 This interesting VRBO rental is a true home within a hangar at Hick's Airfield near Fort Worth. The airfield has a 3740 foot asphalt runway, and is in Uber/Lyft service area. Park your aircraft in the 45 x 50 hangar, and head into the new and modern 2 bedroom, 3 bath "cottage". Click here to check out their listing!
Red Sands Ranch in Mason, Texas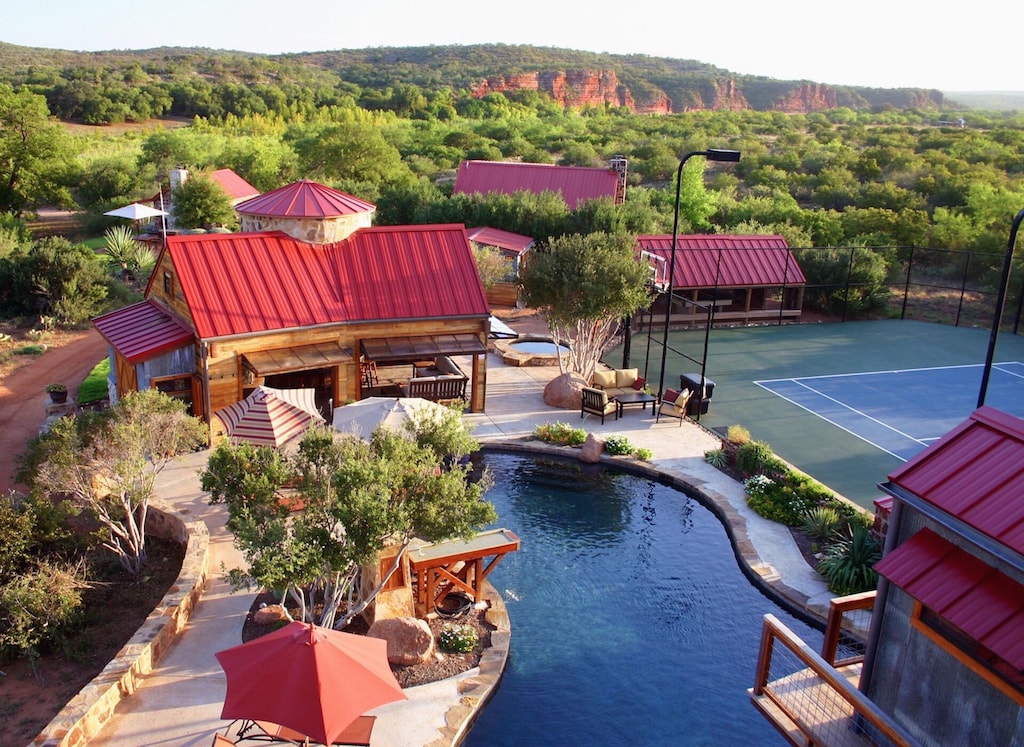 Red Sands is a working cattle ranch that offers this private and exclusive rental. It's a beautiful place for a group vacation, maybe even with multiple aircraft owners. On site is a 3,000 foot turf runway. The base rental provides three units for up to 12 guests, lighted tennis court, a 53 foot pool with spa & grotto, a main gathering as an open air cabana with kitchen, a party shed for kids, and a fitness center. Guests can rent additional cabins for an extra nightly fee that can accommodate up to 37 guests total. There's a variety of extra rental options including a vehicle, and golf carts, kayaks, etc. to cater to the experience you wish to have. Miles of trails and the river await your family and friends at this spectacular rental. Click here to view their VRBO listing.
Check Six Getaway in Afton, Oklahoma (Monkey Island)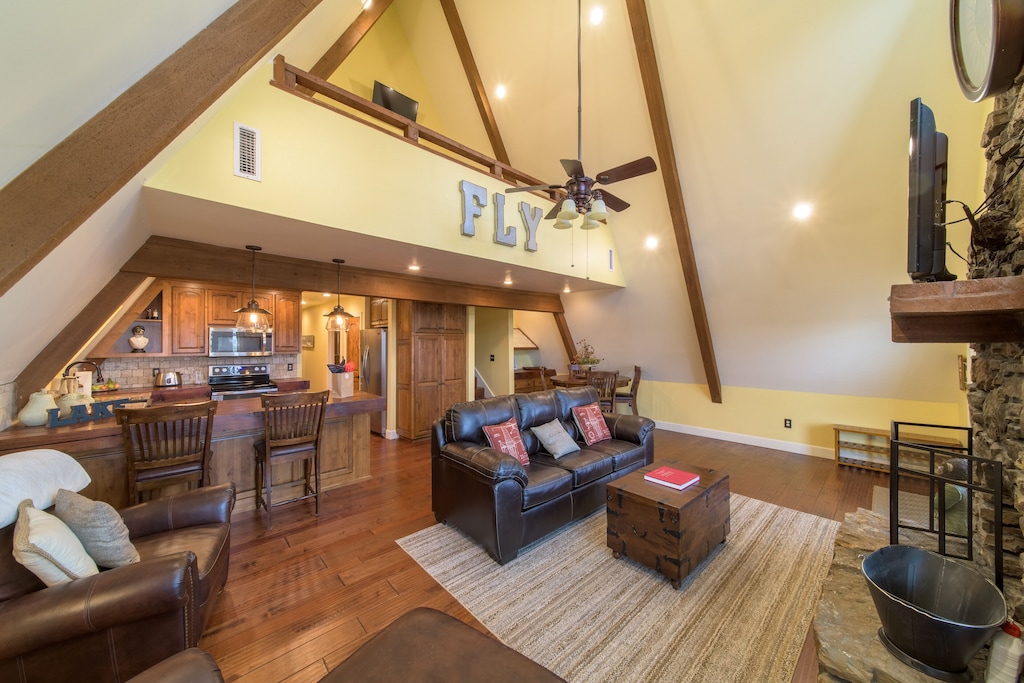 This adorable 3 bed, 2 bath A-Frame home is located next to the Grand Lake Regional Airport. After you land on the 3925 foot concrete runway, a private golf cart will be waiting for your use. This rental is hosted by and specifically geared towards aviators, so you will have everything you need for a lovely fly-in trip. There is also outdoor space at the home for you to relax and enjoy. Monkey Island is a peninsula on the north shore of Grand Lake. All of the island is golf cart friendly, and that's how you will explore the nearby activities and restaurants during your stay. Click here to visit the listing on VRBO.
Eagles Nest in Shelter Cove, California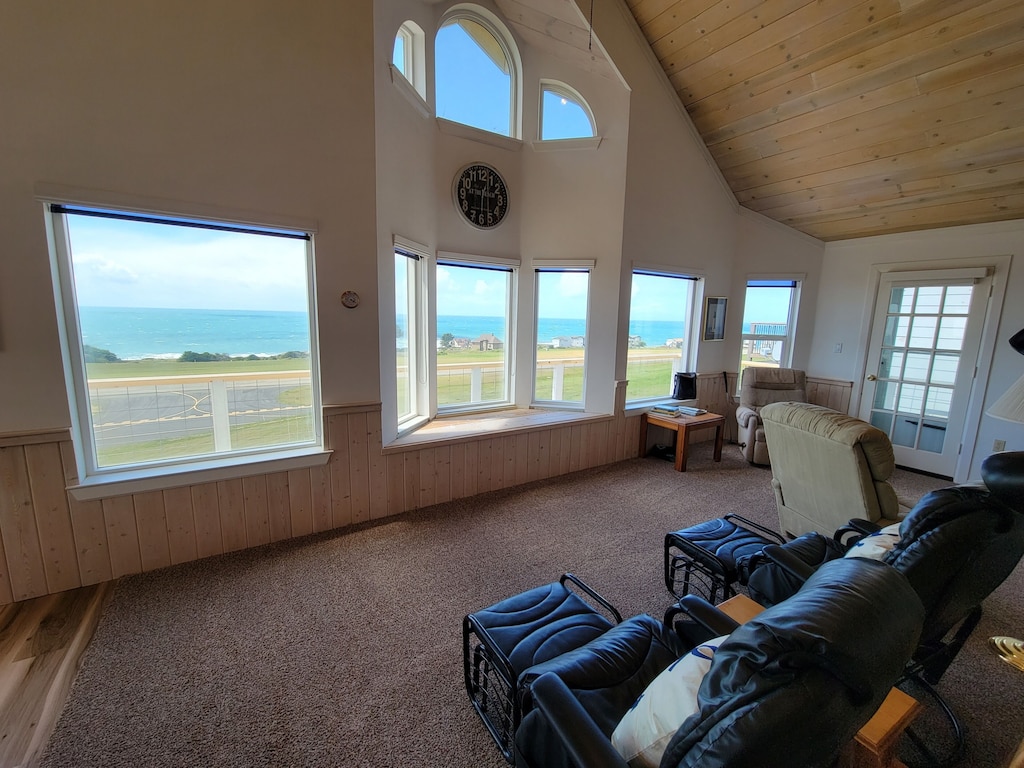 This 3 bed 3 bath home is about 300 yards from where you would park your aircraft. The property overlooks the Shelter Cove Airport's 3400 foot asphalt runway right off the coast. The listing says that pilots can walk over to the home, and is also in walking distance to the onsite restaurant Gyppo Ale Mill. Adjacent to the strip is a golf course, beaches, and hiking. Take a satellite map look at the beautiful coastline area. Click here to view this fly in rental on VRBO.
Connors Lake Landing in Webster, Wisconsin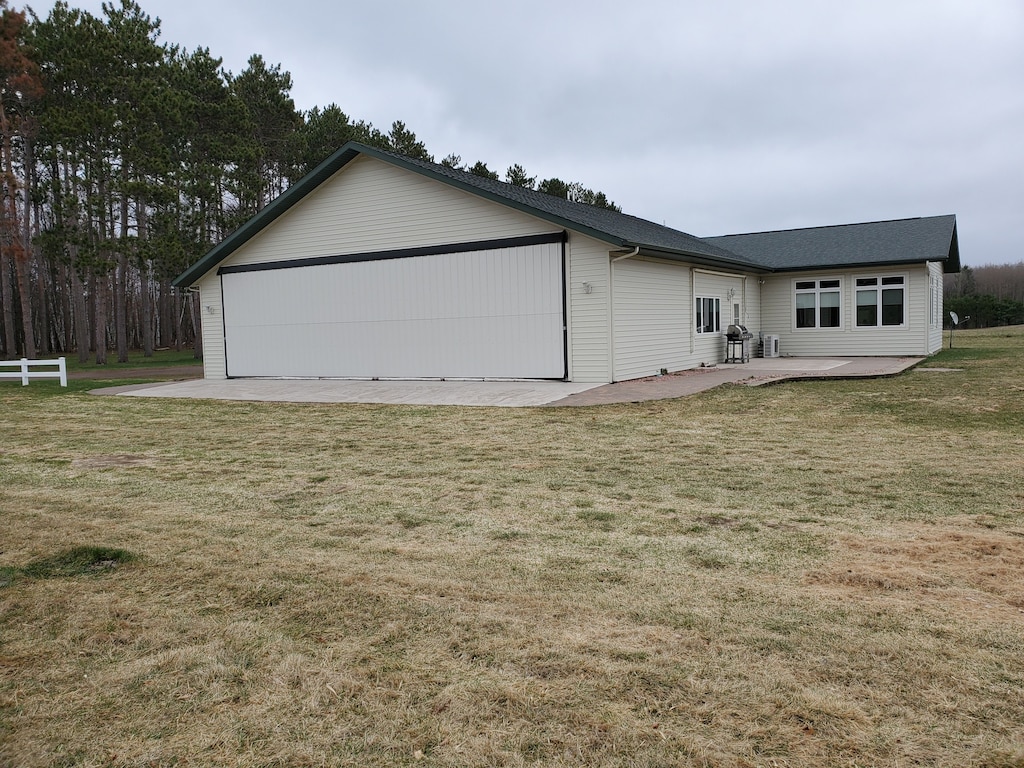 This cozy 1 bed cottage comes with a 46 x 36 hangar and use of an SUV included. Land on their 1765 foot grass strip and enjoy included access to Johnson Lake and a Pontoon! What more could you need for a pilot's getaway – a hangar, a vehicle, and a boat! Click here to view this listing on VRBO.
Red Barn Acres in Live Oak, Florida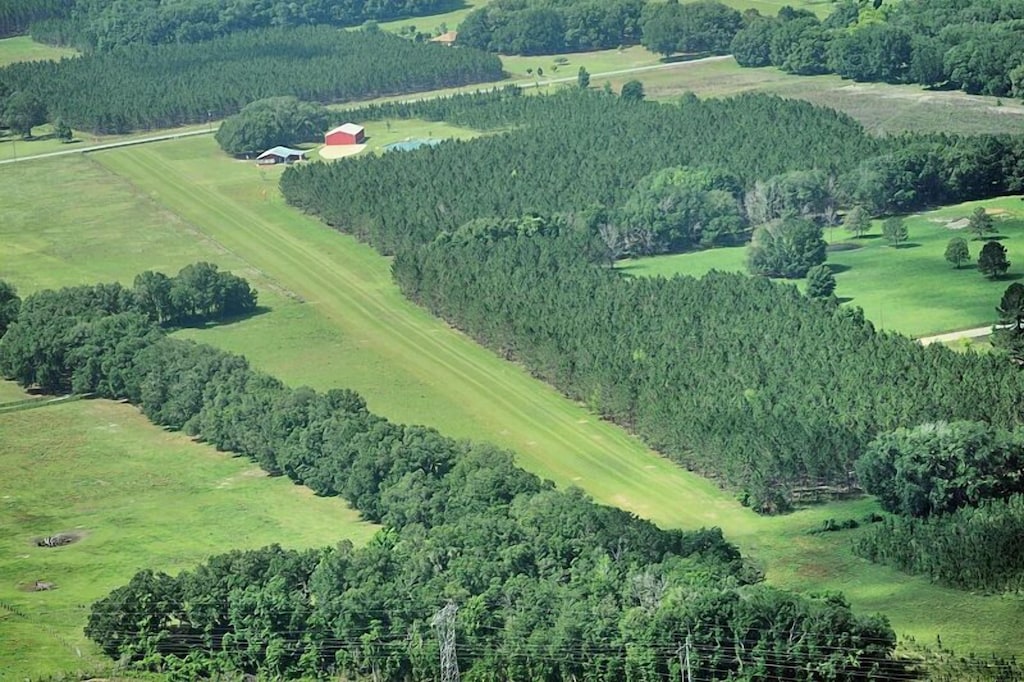 This 3 bed, 2 bath farm house sits at the end of the 2600 ft private grass runway. This is my definition of a true fly in rental ; a private home with it's own private runway! Situated on 58 acres in north Florida, this home comes with a screened in porch for relaxing. There's also an outdoor barbecue and fishing pond just outside. Uber is available, as well as Enterprise Car Rental eleven miles away. Or simply pack some groceries in the back of the plane, and enjoy quiet country life for a couple of nights. Click here to view this rental listing on VRBO.
Airpark Home in Overgaard, Arizona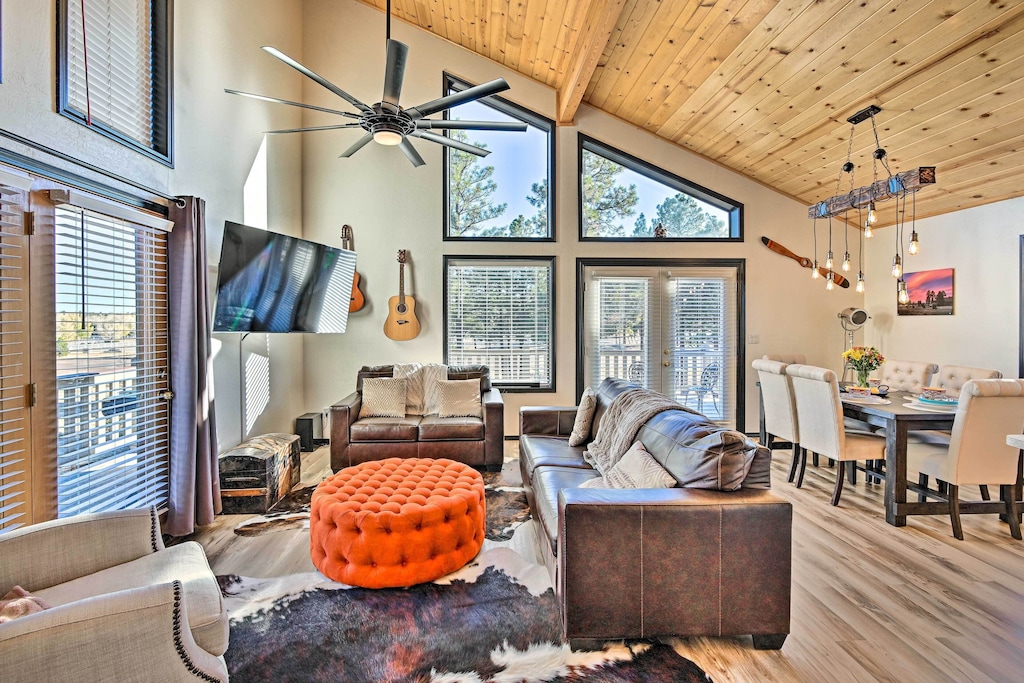 Though this newer listing has only one review, I decided to include it because it is listed by a vacation management company who is a premier and verified host. This cabin is located at the Mogollon Airpark with a 3400 foot asphalt runway. A private 40 x 50 hangar is available for your aircraft for an additional fee. This 3 bed, 2 bath home is surrounded by the Apache-Sitgreaves National Forest, and has all the amenities needed for a nice stay. There is also a landing fee at this airport, and ground transportation options are unclear. You certainly would want to check in with airport and rental host prior to committing. Click here to check out the listing on VRBO.
Cabin for Two in Honesdale, Pennsylvania
This cozy cabin for two is a great airport getaway for any couple, including mom and dad! Located at the Cherry Ridge Airport, this 1 bedroom, 1 bath cabin comes with a tie down in the driveway to park your plane. Cherry Ridge has a 3,000 foot asphalt runway with a breakfast and lunch restaurant on site. There may be a courtesy car on airport. The cabin overlooks the pond and has a screened in porch with grill. Two kayaks and fishing poles are provided in season. Click here to check out their listing on Airbnb.
Tiny House 1 and 2 at Sequim Valley Airport, Washington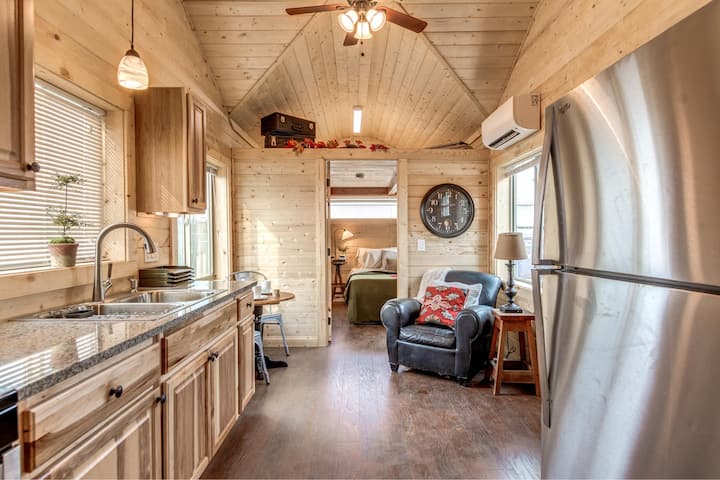 Directly on the Sequim Valley Airport property are two tiny one bedroom cabins, each separately rented. You can land down the 3500 foot paved runway and taxi to park right outside your cabin. Enjoy direct access to the Olympic Discovery Trail with the available mountain bikes. They also have a courtesy car, and a list of restaurants that deliver to the airport. The cabins are rented out via their listings on Airbnb. Tiny House #1 is the less expensive of the two, and Tiny House #2 is a bit more per night, and seems to have a little more updated furnishings. Click the house number for their respective rental page.
Rural Bunkhouse in Kettle Falls, Washington
This one bedroom, common bunk area home is located on a working farm. The listing advertises hangar parking for your aircraft for an additional fee. There are trails, disc golf, and a fire pit onsite. Although airport information was not provided, but I certainly didn't want to leave out a property with an airstrip on site. View listing and contact the host here if interested.
Hangar Apartment at Tenkiller Lake, OK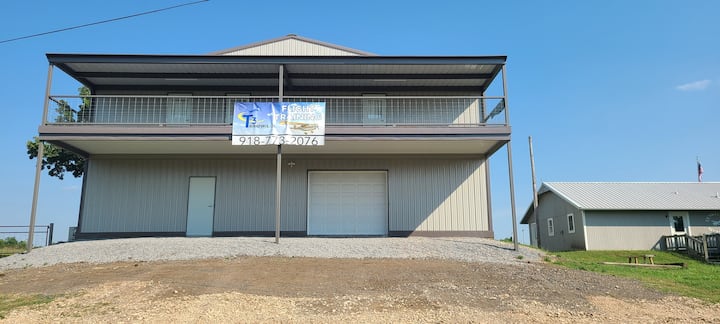 This 2 bedroom, 1 bath apartment is hosted by the flight school at the Tenkiller Lake Airpark. The listing advertises a place to park your airplane. The lofted apartment is situated next to the 2600 foot turf runway, with hiking an fishing nearby. A courtesy car may be available. Click here to view this listing on Airbnb.
---
Rentals within Spruce Creek Fly-in, Port Orange, Florida.
I gave these fly-in vacations a section of their own. The remaining properties below are all located within the well known Spruce Creek aviation community. Spruce Creek is located 7 miles south of Daytona Beach. They have a 4,000 foot paved runway, 14 miles of taxiway, and over 1300 homes inside the gated community. Spruce Creek boasts safety and privacy as a main feature of their community, and has 24 hour security patrol. Considering information here will apply to all rental homes, the remaining listings will just have basic house information. There is a golf club and restaurant on site. Very important to note that whereas the airport is private, you may only land there by invitation. You must be an invitee of and arrange these details with the host. There are tie downs available for a per night fee. You will not be able to run outside errands by walking distance, but can order food or grocery delivery, and/or use Uber/Lyft in this area. Let's take a look at the fly in rental inventory from VRBO.
Castle Style Home at Spruce Creek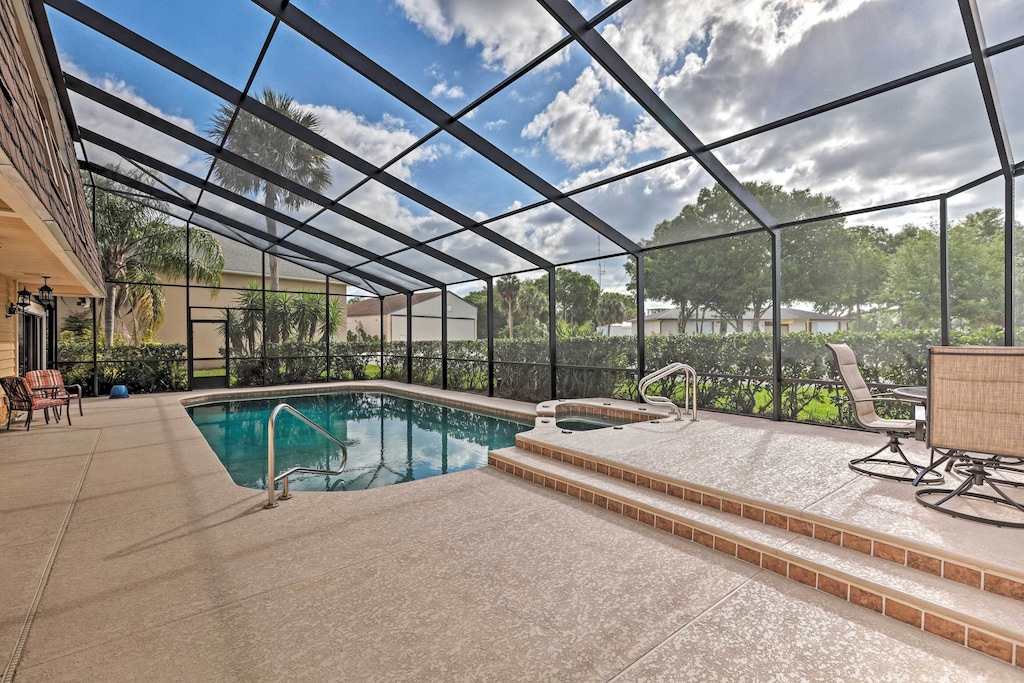 This 3 bed, 3 bath home is advertised as an Aviator's Dream. Enjoy the screened in saltwater pool, and fitness equipment located inside. As far as extras go, check out the massage chair and pool table. Read above for more Spruce Creek details. Click here for this VRBO listing.
Renovated Pool Home at Spruce Creek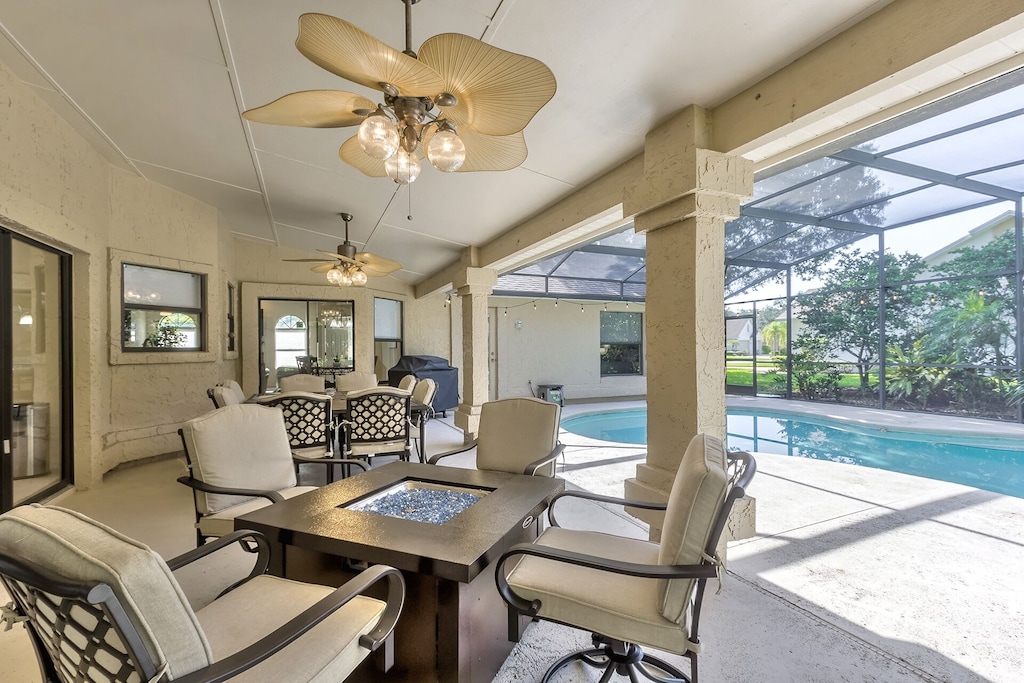 This beautiful 4 bedroom, 3 bathroom home is fully stocked including laundry room. Enjoy the outdoor heated pool and dining area. The renovated interior sleeps 8. However, there is also cleaning fee for this home. Check out the listing here on VRBO.
Executive Home at Spruce Creek
This 3 bedroom hangar house has vaulted ceilings and wall to wall windows for open, natural light. The fly-in rental is fully stocked including starter supplies. Enjoy the 20 x 40 heated pool and private lanai. This home sleeps 6 people and can be viewed on VRBO by clicking here.
Newly Renovated Home at Spruce Creek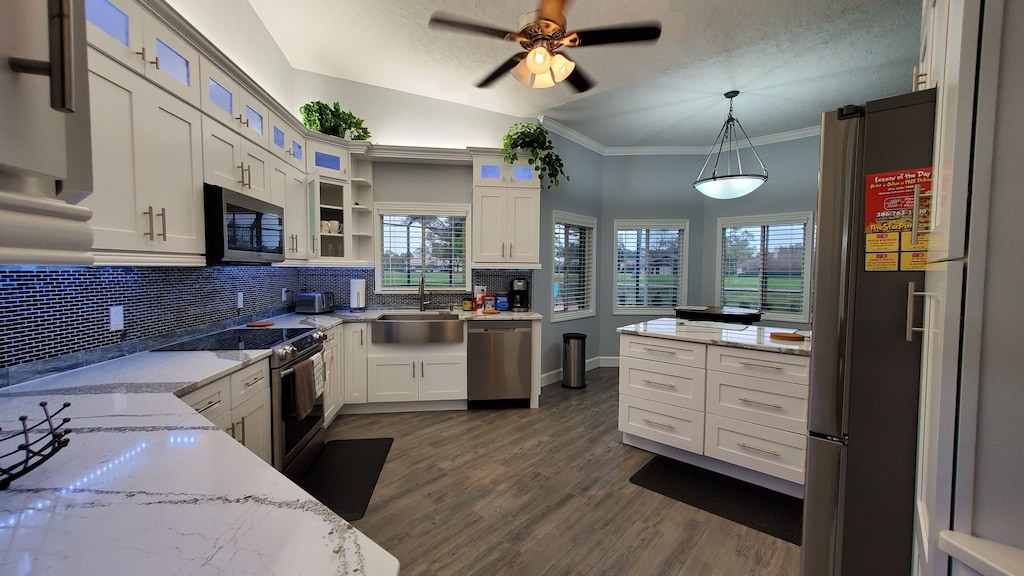 This 3 bed, 3 bath home is recently renovated and has tile throughout. The listing says it's close to the country club and dining facilities. This home also has a pool and is highly rated by guests. Click here to view the listing on VRBO.
Walk to Golf Course in Spruce Creek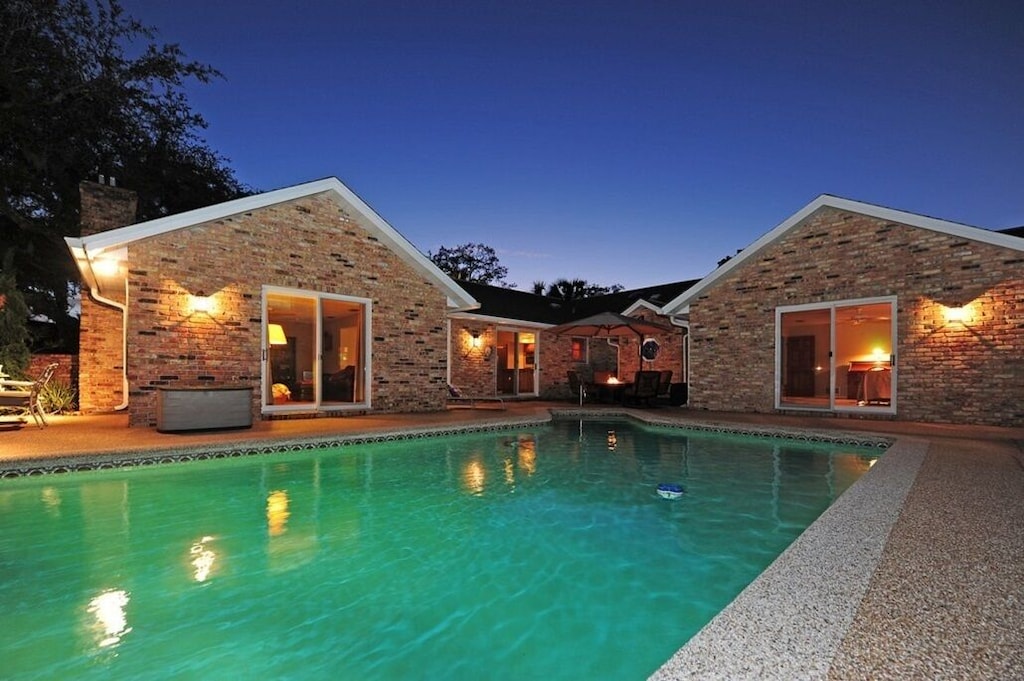 Here we have a 4 bed, 3 bath home within walking distance to the golf club. You can relax by the pool and fruit trees. If you would like a way to explore the grounds, they also provide a golf cart for a fee. Click here to view this listing on VRBO.
---
I hope you have found a fly in rental option worth checking out! If you have any information you would like to share about any of these rentals, or if you know of any other on airport rentals please use the contact page to let me know. I would absolutely love to add these rare aviation home finds.
Let me help plan other logistics of your flight! Do you also travel with your family? Browse around my other articles on products that make traveling with kids easier, aviation headsets for kids, and car seats in personal aircraft. Safe Flying!